Transform360™ is fat loss program designed especially for people who find losing weight difficult due to history of musculoskeletal problems such joint pain, muscle tightness, back pain, arthritis or medical history such as diabetes, high blood pressure, post operation/hospitalisation.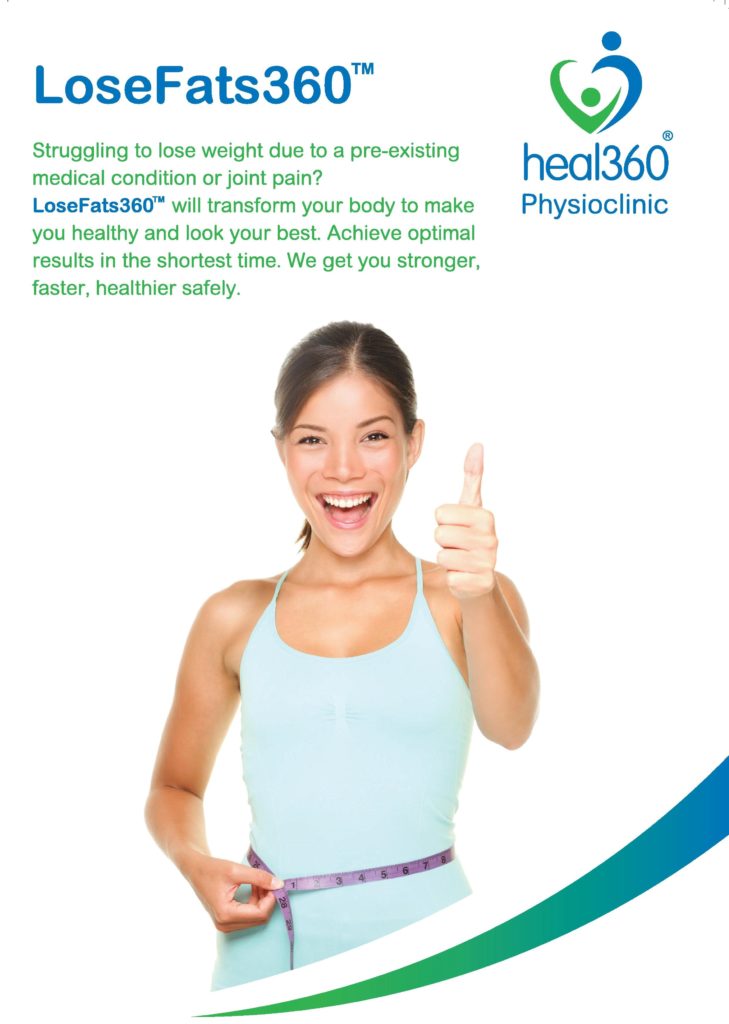 Some people tried exercising on their own or engaged in personal trainers who may not have the extensive medical knowledge of our experienced therapists with physiotherapy. As a result, they injure and cause pain to their body instead of achieving weight loss results.
We understand that not everyone is comfortable joining a gym or hates exercising, especially if they have never worked out before.
Transform360™ program will assess your condition, goals and weight lose preferences before personalizing your 1-1 fat loss training program.
We will help you achieve safe and effective fast weight-loss, as well as to manage your pain/medical condition or prevent injury during exercise.
In addition, your body will look good, feel younger and stronger. You will gain a new sense of discipline and balanced lifestyle and achieve optimal performance.
We need your commitment to get you the results you want!
Experience a fresh lease of life…
Quote 'Transform360™' during appointment booking – CALL US NOW AT 6224 4178 or SMS 9639 0509
---
Researches:
Achieving Consensus on Recommendations for the Clinical Management of Overweight and Obese Adults for Canadian Physiotherapy Practice. Alexander E, Rosenthal S, Evans C. Physiotherapy Canada. 2012;64(1):42-52. http://www.ncbi.nlm.nih.gov/pmc/articles/PMC3280708/pdf/ptc-64-042.pdf
'Physiotherapists are uniquely positioned to facilitate physical activity required for weight management . They are able to deliver personalised exercise and lifestyle interventions to prevent and address barriers to physical activity participation, promoting physical and mental health and well-being, and enabling obese people to move and function as well as possible.'
Exercise Aspects of Obesity Treatment
McQueen MA. Exercise Aspects of Obesity Treatment. The Ochsner Journal. 2009;9(3):140-143.
'Obese persons may benefit from a resistance training program, which improves muscular strength and favorably affects functional tasks. Resistance training may also stimulate an increase in fat free mass.'
---
Testimonials: 
I suffered from early osteoarthritis knee since 40. Doctor has advised me to lose weight to help reduce my knee pain and prevent worsening. I tried many ways and also hate to exercise as it cause me more pain with a personal trainer. My doctor referred me to Physioclinic. Not only my therapist helped with my knee pain, she also helped me to lose 2kg over 2 months. I am very happy with the results and still continuing my program. Irene Chia, IT consultant
I lost 5kg in 2months. This is a very safe program for me with multiple medical problems -slipped disc, shoulder pain, knee menicus tear and high blood pressure. My therapist know my condition well and what I can or cannot do. Tan Pei Ling, housewife