At Physioclinic, our physiotherapists conduct Health talks to companies, schools and organisation to educate the importance of health and prevention.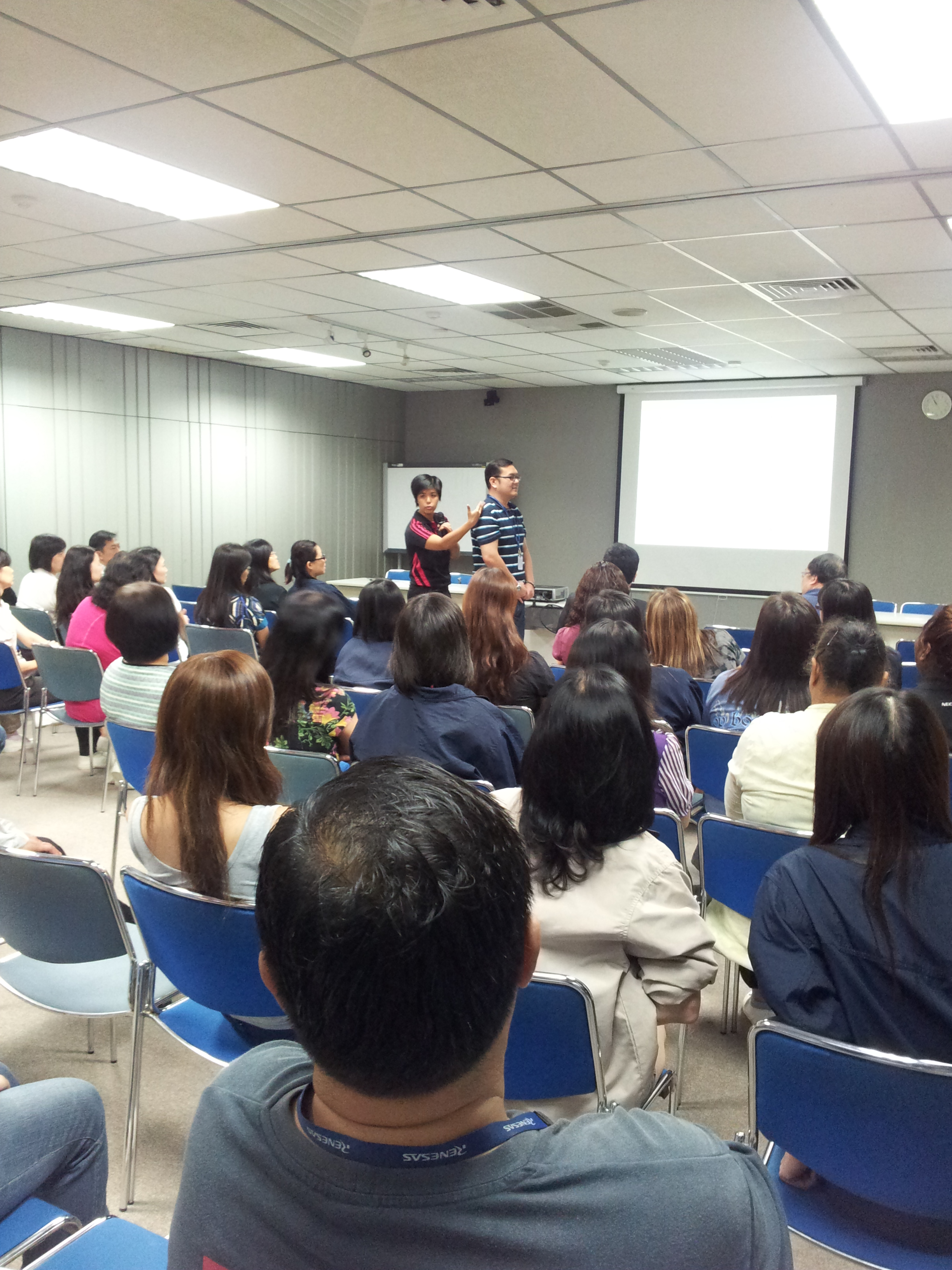 Common health talk topics:
–           Stress Management & Relaxation Techniques
–           Solutions to Neckache & Backache
–           Common Sports Injuries & Prevention
–           Posture Awareness
–           Stretching at work
–           Good Computer Ergonomics
–           How to manage pain and stop Pain
–           Proper Lifting Techniques
–           Running Injuries
Our physiotherapists also tailor topics to your request.
Physioclinic is a listed service provider under Health Promotion Board (HPB) and actively promoting workplace health program. As we are qualified physiotherapists, our area of expertise lies largely in physical well-being. ergonomics programs and educational talks/ workshops.
List of Organisation that our physiotherapists has conducted talks:
Corporate Clients:

Absolute Living
Acez Sensing
Agilent Technologies
Abacus International
ABN AMRO Bank Asia
Asia Pacific Breweries (APB)
Bank of NY Mellon
Becton Dickinson
Borneo Motors
BNP Paribas
Bridgestone Asia Pacific
Bunge
Carrier ARCD
Chemical Market Associates
Cargil
CDAC (Chinese Development Association)
Ciba Vision
Cheong Lee Leong Seng
Consolidated Pipe Carriers
Deutsche Telekom Centre
Dow Chemicals
Epson
Energizer Singapore Pte Ltd
Eisai Clinical Research
Estee Lauder
Eu Yan Seng
Flowserve Corporation
Far East Organization
Fonterra- Dairy for Life
FHI
Fraser Centrepoint Pte Ltd
Frost & Sullivian
GlaxoSmithKline
GE Commercial Finance Capital
Genetech
Gleneagles Hospital
Gucoland
Kewill IPACS
KH Goh Associates
Infolink
Itochu
Jason Electronics
JTC Corporation
JP Morgan
JD Power
Lion Global
Harvey Davidson
Hapag Lloyd

Hi-P International Ltd
Hill ROM
Huntsman
May Bank Centre
Makino Asia
McGraw Hill
Millenium & Corpthorne
Mini Toons
Mediacorp 1-net Singapore Pte Ltd
Motorola
Mount Elizabeth Hospital
National Environment Agency (NEA)
National Kidney Foundation (NKF)
NTUC
OCBC
Perkin Elmer
Performance Motor
PSC Corporation Ltd
Procter and Gamble
Renesas
Richland, SLS Bearing
Ricoh
SAFRA
Sanofi Aventis
Shatec
Shell House
Sony Electronics
Sony Ericsson
Singapore Computer System (SCS)
Singapore Polymer
Singapore Petroleum Company (SPC)
Siltronic Samsung
Stolt Nielson
Sumitomo Bakelite
TSMP Law Corporation
Titansoft
The Hongkong and Shanghai Banking Corporation (HSBC)
Toshiba Singapore
Toyota Bodycare
T –systems
Tyco Flow
United Industrial Corporation (UIC)
UOB Life Assurance Pte Ltd
Y J International
Verigy Ltd
Visa
Wieland
WR Grace

School Clients:

National University of Singapore (NUS)
Nanyang Polytechnic
Singapore Management University (SMU)
Republic Polytechnic
ITE College West (Dover)
ITE College East (Macpherson)
Evergreen Primary School
Guangyang Secondary School
CHIJ St Joseph Convents
Pei Tong Primary Schools
St Nicholas
Temasek Polytechnic

Community Clients

Toa Payoh South Community Centre
Choa Chu Kang RC
St Joseph Home
To arrange a health talk with our physiotherapist, pls call/SMS 9639 0509 or EMAIL US