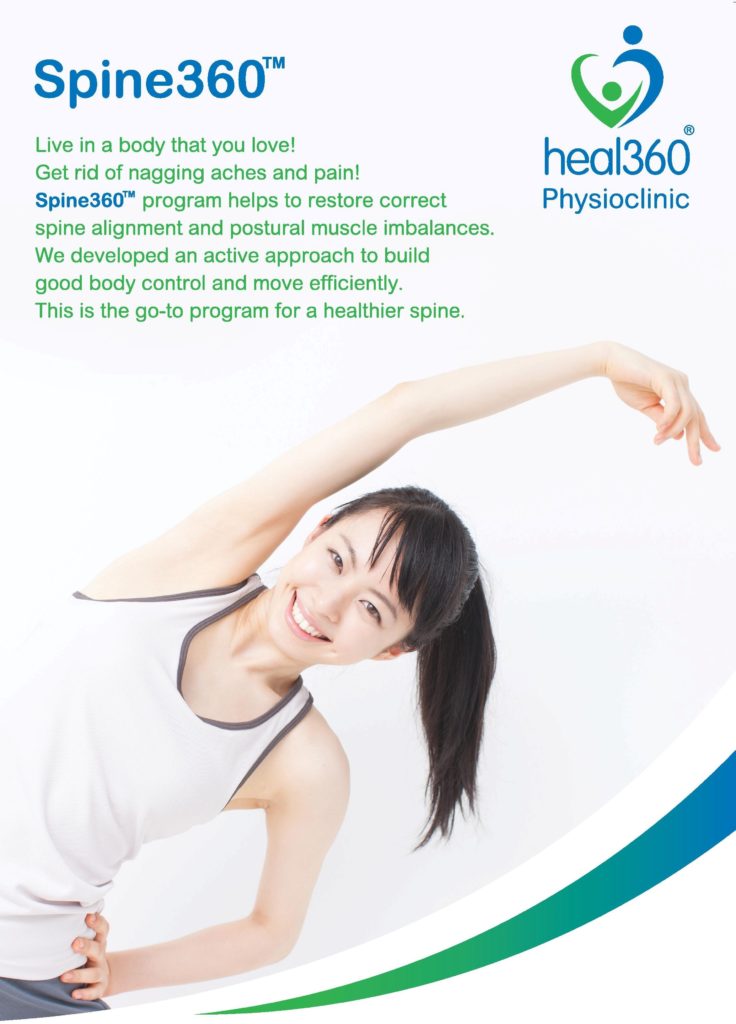 Spine360™ Program will re-educate, re-train your spinal muscles, and give you a renewed, stronger spine and confident look!
Correction of bad posture
Stronger spinal muscles to sit and work prolonged hours
Improvements in pain and functional capacity
Increase energy level and reduce fatigue
Improve muscle flexibility and core strengthening
Treating and prevention of Posture-related neck and back pain
Spine360™ is suitable for all ages. Our rehabilitation experts designed this for anyone who is interested in making positive change to their posture and managing posture related issues whether at work, study or home.  It can help you improve your spine alignment and movement in daily function.
Depending on individual condition, Spine360™ program may include:
Postural Assessment: Joint Assessment, Muscle length, spinal muscle strength and stability control
Spinal Flexibility Stretch
Postural Strengthening
Core strengthening Exercise
Spinal Deep Tissue Massage
Live in a body that you love!
Quote

Spine360™ during appointment booking – Phone 62244178 or SMS 9639 0509 or EMAIL US now!
---
Researches:
Effectiveness of holistic physiotherapy for low back pain.
Adamczyk A1, Kiebzak W, Wilk-Frańczuk M, Sliwiński Z.Ann Intern Med. 2015 Apr 7;162(7):465-73. doi: 10.7326/M14-1420. 'The studies showed a holistic approach can effectively help for low back pain.'
Delitto A, Piva SR, Moore CG, Fritz JM, Wisniewski SR, Josbeno DA, et al. Surgery Versus Nonsurgical Treatment of Lumbar Spinal Stenosis: A Randomized Trial. Ann Intern Med. 2015;162:465-473. doi: 10.7326/M14-1420
'People with lumbar spinal stenosis should first try a well-designed physical therapy program before undergoing surgery. Most of the patients' pain continued to decline over four months, while their physical function continued to improve. '
---
Testimonials: 
My lower back has stopped aching totally. I am more aware of my posture on sitting and standing. And the advice provided has been valuable. Communication with the therapist was very easy and my condition was diagnosed very quickly as well. I would recommend Physioclinic to my friend and family.
ERICA HENG
Physioclinic has help reduce the pain, I felt when I used to get after sitting down for prolonged period of time. The exercise and stretches I learnt also helped me relieve the tension in the muscles. Yamuna is a friendly therapist. She is professional in what are does and was able to pin-point what was exactly wrong/What caused my lower back and hip ache. She was able to help me clear misconceptions too. The treatment were very good and is reasonably priced as compared to other Physio clinics out there.
Juliana Goh Si Hui, NTU Student
The training I received not only helped alleviate my injury but also improved my natural posture and stance. I am pleased with the professional quality of treatment at Physioclinic. My trainer has a sense of humour. I would highly recommended Physioclinic to my friends and family.
ZANE MOSER