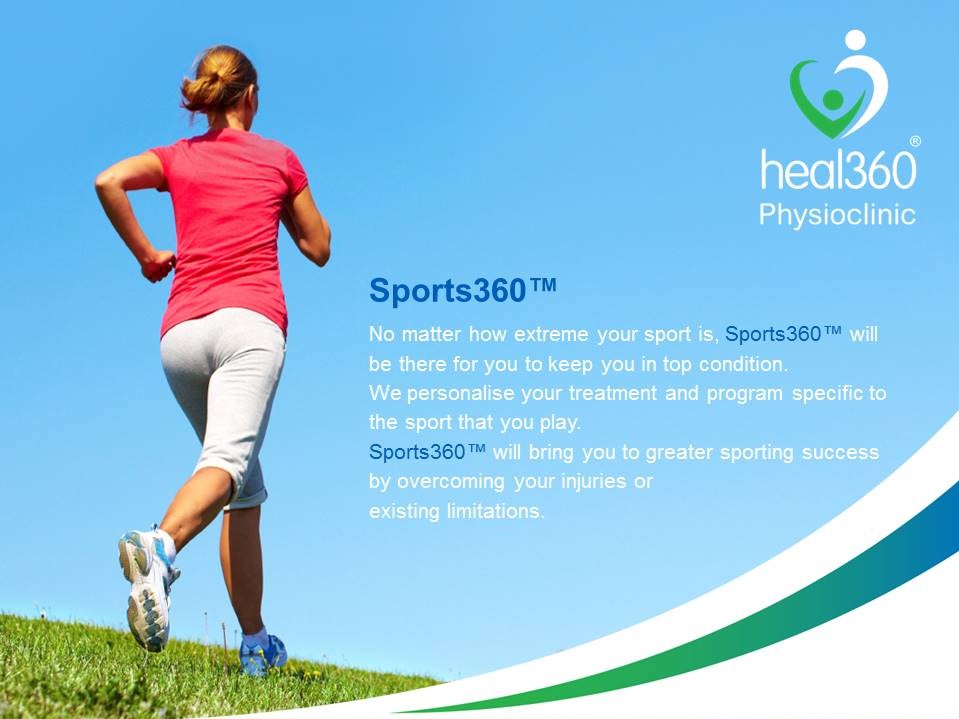 Sports360™ program offers sport specific and results-driven training program for athletes and individuals of all ages, levels and performance goals.
Our Goals:
Our  trained therapists understand the biomechanics and physical demands of each sports, common sports injury and will shore up individual weakness to lessen injury risk.
We aim to maximize individual fullest potential to perform their sports.
Sports360™ Program: 
1) Customised 1-1 training to the sport-specific needs of each athlete:
Strength
Power
Flexibility
Agility
Balance and Stability
Proprioception
Coordination
Functional Core Training
2) Sports Massage
3) Sports Specific Fascial Stretch
We will bring you to the next level for all kinds of sports such as running, golf, tennis, swimming, basketball, badminton, cricket, soccer, hockey. dancing. martial arts
FULFILL YOUR POTENTIAL
Quote 'SPORTS360™' during appointment booking – Call 62244178 or SMS 9639 0509 or EMAIL US now!
---
Researches: 
Effectiveness of sports massage for recovery of skeletal muscle from strenuous exercise. Best T M, Hunter R, Wilcox A, Haq F. Effectiveness of sports massage for recovery of skeletal muscle from strenuous exercise. Clinical Journal of Sport Medicine 2008; 18(5): 446-460.
'The beneficial effects of sports massage are most evident when treatment was administered within two hours of exercise. It helps in promoting post-exercise function, dealing with delayed-onset muscle soreness and facilitating recovery from repetitive muscular contractions.'
Fascia: Essentials You Need to Know.  Thomas Myers. Health and Fitness Association. Oct 20, 2011
'FST is the new trend of stretching that aims to improve every aspect of athletic performance and recovery.It works by moving the joint along with the surrounding tissues to help the fascia and muscles relax at the same time.'
---
Testimonials: 
Physioclinic does an awesome job of rehabilitation for our clients with musculoskeletal problems. Their approach is professional, safe yet effective. Their therapists are very friendly and approachable. Pain is almost always eliminated, sometimes in a few as one session of treatment. Highly recommended! 2 thumbs up!
Chung Tze Khit, Managing Director
To the large extent felt looser and more nimble after training and fight. Therapist is meticulous and friendly. I would definitely recommend Physioclinic to anyone.
JUAN WE JIE
Singapore MMA Champion of ONE FC
As a professional MMA fighter, injuries from training does happen from time to time. Physioclinic has been the place I go to when I sustained injuries or when I need to loosen my fatigue body. The equipment are used truly helped me a lot together with the professional service that the staff provided. It is truly a place to go when I need to treat my body.
ROYSTON WEE
Singapore MMA Champion of UFC
Muscle relief immediately, having a sports massage therapist at Physioclinic that really knew how to treat an athlete. The best sports massage i have had in years. If you're in Singapore and need to loosen up the old body, I highly recommend visiting Pia at Physioclinic. Thanks!
CASEY SUIRE
Indonesia MMA Champion & Bantamweight fighter in ONE FC