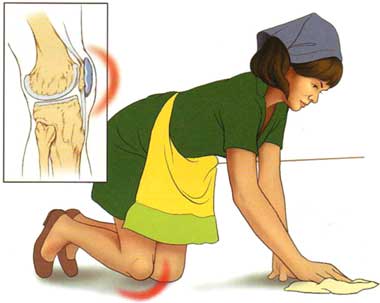 What is Pre-Patella (top kneecap)Bursitis?
Pre-Patella Bursitis, also known as 'housemaid's knee', is the most common type of knee bursitis, located at the top of the kneecap.  
Causes of Pre-Patella Bursitis
Overuse
Direct blow to front knee
Chronic friction such as kneeling
Common sports injuries for wrestling, volleyball where fall and land on knees
Signs and Symptoms of Pre-Patella (Top kneecap) Bursitis
Pain
Swelling over front of the knee
Limited movement when bend or straightening knee
Kneeling is painful
Relieved with rest and sitting
Physiotherapy Treatment for Pre-Patella (top kneecap) Bursitis Pain
At Physioclinic, our physiotherapist's goal is to help you relief your kneecap pain or discomfort, return to your sports, work or daily activities as soon as possible.  
Physiotherapy Treatments may include:  
Knee support and brace
Exercises for flexibility
Muscle strengthening
Lifestyle Modifications
Get Treated for your Pre-Patella Bursitis or Kneecap pain now, Call/SMS 9639 0509 or
EMAIL US